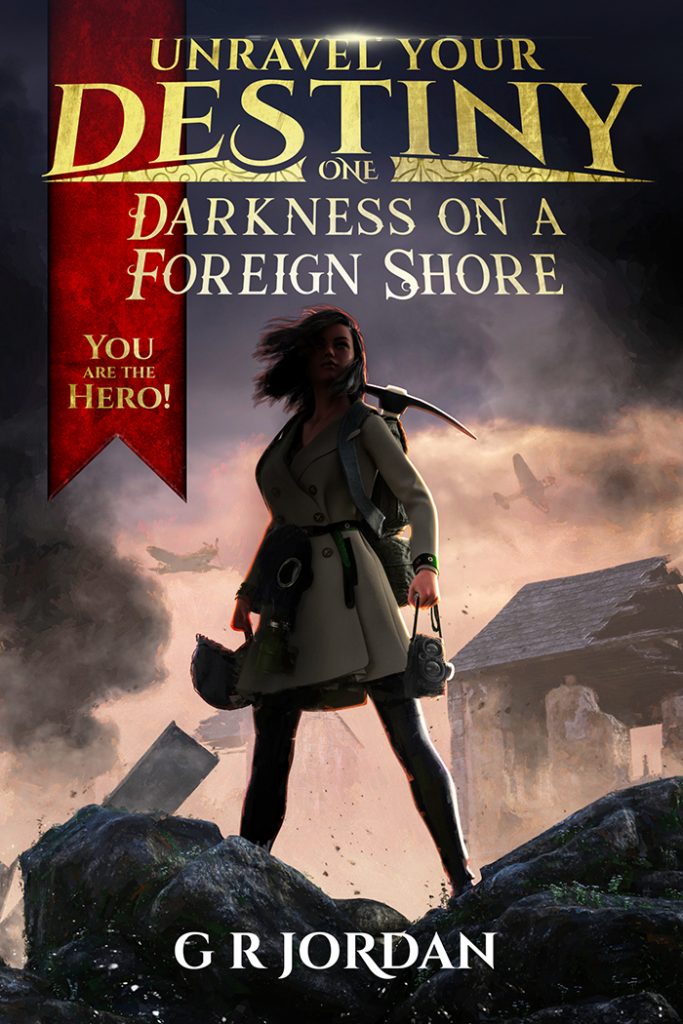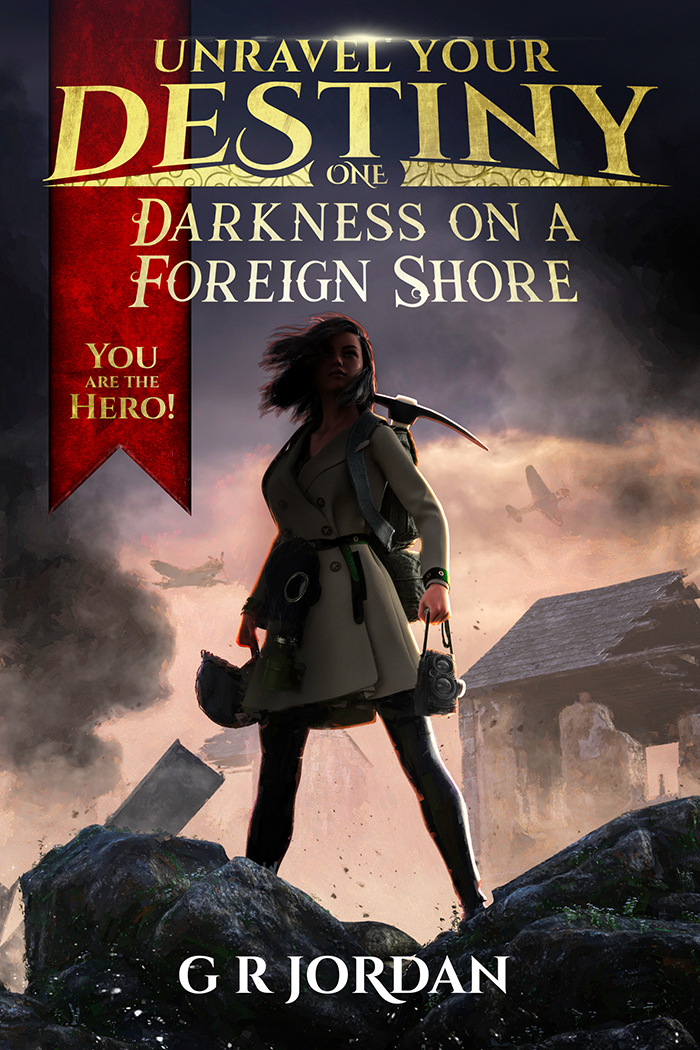 "Unravel Your Destiny" is the roleplaying books arm of Carpetless Publishing, a project inspired when Gary (G R Jordan) met Jonathan Green at the 2019 UK Games Expo and purchased his roleplaying book, "The Wicked Wizard of Oz". This took Gary back to his days of playing such roleplaying books as the Fighting Fantasy Series, Joe Dever's Lone Wolf Series and the Ninja based The Way of the Tiger.
And so a dream was born to create roleplaying books of his own….
The Books
Growing up, I fell in love with the fighting fantasy gamebooks, Dungeons and Dragons, The Way of the Tiger series by Mark Smith and Jamie Thompson, and many more tales that gave you the chance to go where you wanted, that let YOU become the hero. Now, we are seeing a resurgence of such books and I write my own where I try to push the boundaries of the books I loved from my younger days.
The books are launched via a kickstarter before being brought to the more general online stores as well as my own. With each one I write, I try to develop new and different mechanisms and hope to explore more varied topics and settings for gamebooks. Below are the fruits of my labour which I hope you will explore, love and replay many times. Feel free to join my mailing list for up-to-date details on the books (no spam, I promise!) HERE
Darkness on a Foreign Shore : UYD #1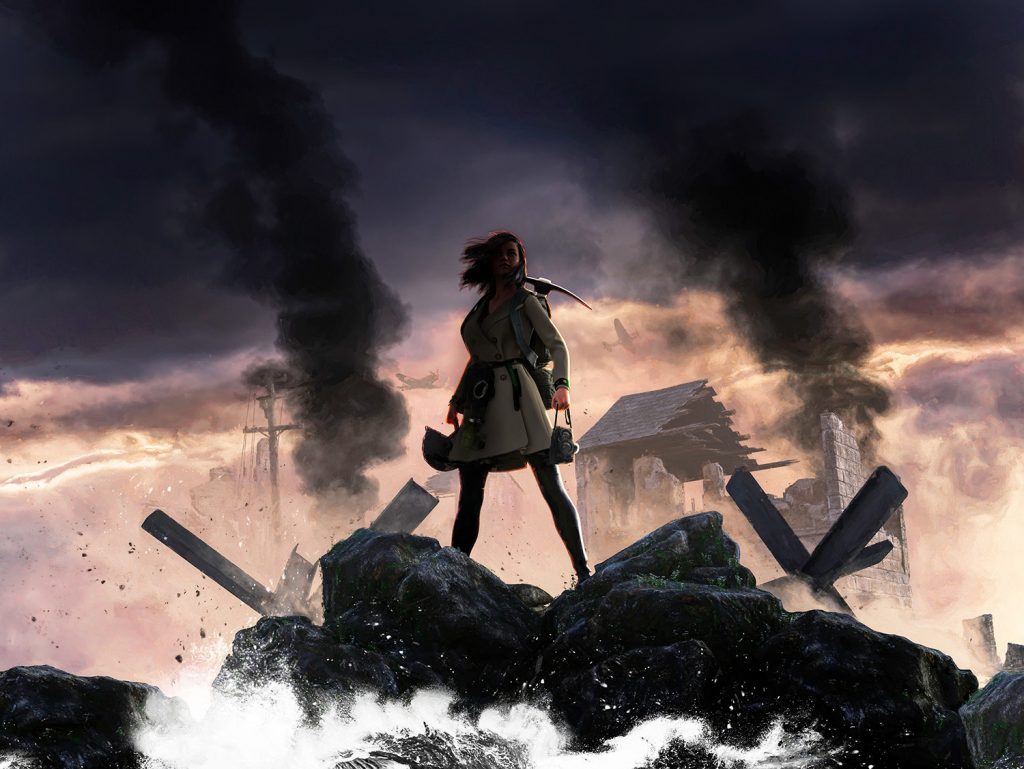 Released via Kickstarter: December 2019
The Story
Alone on a foreign shore. Enemies all around. Unsure of who your friends are. Dangerous missions that have to be successful. Can YOU overcome your fears, evade capture and make it home? The world has become a dark place with Europe in turmoil as Germany flexes its might and invades many countries including France. In Britain, operations are underway which seek to aid the French resistance and throw the German army out of the country on the road to winning a war. YOU have been chosen to be one of the many female spies who will enter France and work to assist the local fighters, performing necessary tasks to aid the war effort. Stealing plans, organising airdrops, blowing up communication links, disrupting German units and running other spies are all within your sights as you bravely risk your life in a strange land. Will YOU survive? Will YOU succeed? Unravel YOUR destiny and find out!
YOU make the choices!
YOU are the hero!
YOU face the consequences!
Gary's Thoughts
"Darkness" was my first gamebook and involved a female spy being sent to France to carry out covert missions under hostile conditions. Although suitable for twelve and up, it has some intense situations and reviewers have said it gave them the feeling of do or die moments. There are seven missions in the book, increasing in difficulty and length and hopefully it gives some idea of what these wonderful women went through (though what book could ever give a true reflection of their sacrifice).
Reviews:
James Spearing (My Gamebook Adventures) – "Altogether, this was an inspiring, original top-notch gamebook which deserves a lot of attention." "Superb, original gamebook!"
Dane Barrett (Mystery of Dracula / River of Dread) – "I highly recommend this book for anybody who doesn't mind not having any dice to roll during their gamebook. The encounters are tense and exciting, and you're always kept on your toes. And the setting is excellent. I thoroughly enjoyed it."
Jhana LSH (Kickstarter backer) – "fun and exciting tactical decisions and code breaking to make and crack!"
Links
My Shop: https://grjordan.com/product/darkness-on-a-foreign-shore-unravel-your-destiny-1
Amazon: https://www.amazon.co.uk/Darkness-Foreign-Shore-Unravel-Destiny/dp/1912153513/
Framed : UYD #2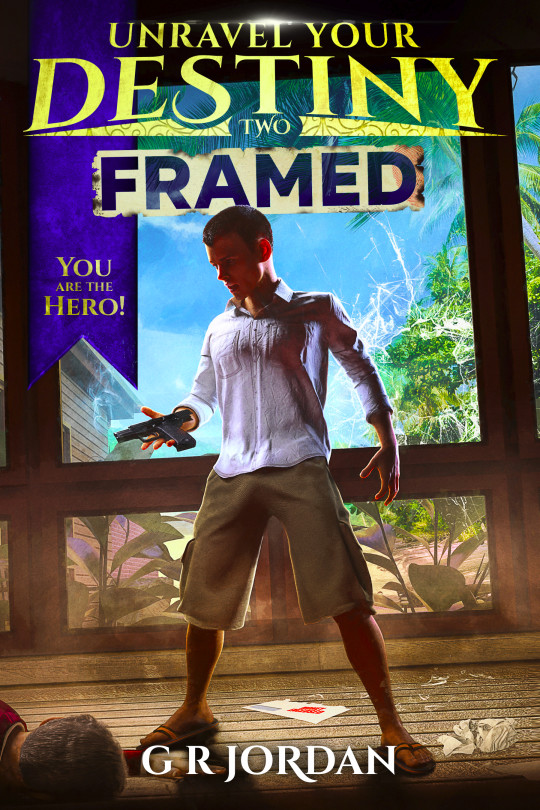 Released via Kickstarter: September 2022
The Story
A dream job running errands for a famous scientist. A party to celebrate a breakthrough in his research. Waking YOU find the scientist dead at your feet while YOU hold a recently fired gun in your hand. Can YOU find the evidence, solve the mystery and discover the real killer on the island?
A job as the boat driver and errand runner for Dr Flavius Munro seemed ideal employment on a breath-taking private island. When he invited you along to a party to celebrate his work with five other distinguished guests, you were delighted to attend and ferry them to the island. But now your employer is dead, and it looks like you will be taking the blame. Can YOU discover the clues around the island which will clear your name and implicate the real murderer? Can YOU stay alive as you encounter the other guests, many fearing you, and one a killer who may come for you? Will YOU survive? Will YOU succeed? Unravel YOUR destiny and find out!
YOU make the choices!
YOU are the hero!
YOU face the consequences!
Gary's Thoughts
"Framed" was an absolute beast to write because I challenged myself to make a book, not only with multiple endings, but also with multiple solutions to the murder, meaning each time you play the killer could be someone different. There are a thousand sections and seven different locations to explore before finally facing the police to explain why you are not a murderer. It's fun, challenging and always replayable!
Reviews:
James Spearing (My Gamebook Adventures) – "The good news is that I feel that whoever plays this book, seasoned thriller reader, or experienced gamebooker, is going to have a great time. Why? Just because it's a class act." "This is one of the most complex gamebooks I've played for a while. The book makes extensive use of codewords to track what you have discovered, as well as there many locks to unpick, and clues to interpret. Because at the end, you will need to accuse the correct suspect, and utilise the correct evidence found during your investigation. This in itself would make for an excellent gamebook. What makes it even more extraordinary is how the story changes depending on so many factors. This includes the order of the locations you visit ( a map is included ). Also, the content of the locations can be different from previous play throughs. After all, it makes sense that people might be in different places on the island depending on when you search a location, and that different clues might therefore be found. Furthermore, the gamebook is able to track all of this, and knows who the murderer is in that particular timeline, as its aware of the evidence you could have found. Amazingly, it works seamlessly, so that there can only really be one ( ? ) culprit on each play through, and yet at the same time this can be a totally different person each time."
Read James' whole review here
Links
Shop: https://grjordan.com/product/framed
Books Yet to be Released
The Treasure of Captain Estes: UYD #3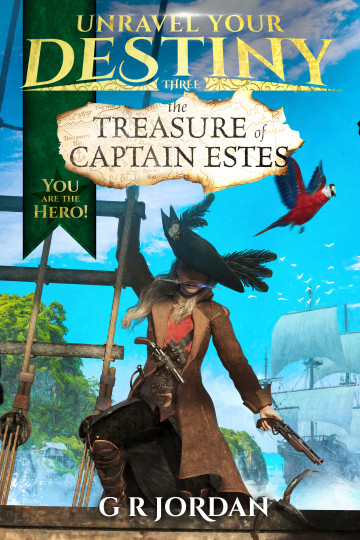 The Story
YOUR home that was ruined by Spanish forces and now a life of destitution beckons unless YOU can find the means and resources to hunt down your parents' killer. Can YOU take on the mantle of pirate captain and restore the fortunes of your name and crew?
A life as the daughter of a plantation owner was idyllic until Captain Estes attacked YOUR home, leaving YOUR parents for dead and YOU on the streets in the clothes you ran in. There seems to be no hope in a world ruled by men looking for profits, or by pirates scouring the ocean waves. Can YOU escape the streets of the island port of New Southampton and find a vessel and a crew to help YOU seek revenge on the captain who took YOUR family and YOUR life? YOU'll need to mix among the less than virtuous and show yourself to be a strong leader in a place where women are merely items to be owned.
Can YOU raise a crew and hunt down Captain Estes and his treasure? Can YOU recover what was stolen and survive the tales of the evil seas around New Southampton? Will YOU succeed? Unravel YOUR destiny and find out!
YOU make the choices!
YOU are the hero!
YOU face the consequences!
Release Notes
Kickstarter provisional release date: 01/11/2022
Albert Archibald – Alba's Light: UYD #4
Artwork coming soon
The Story
Cast out by YOUR family and shunned by YOUR friends, YOU seek to fulfil your promise to a dying Highland mother. Can YOU find her daughter amidst the tales of ghosts and sea creatures that haunt the north of Scotland before you succumb to the foul beasts in the dark? Can YOU, Albert Archibald, be Alba's light in the face of the oncoming madness?
When YOU first banished a ghoul from an Edinburgh poor house, your family begged you to quit your stated profession. When YOU insisted on attending a dying Highland woman in the slums of the city, the fallout from the incident, and the many manifestations seen by the poor, caused YOU to be mocked and feared, and the city to bar YOU from any legitimate practice of your arts. But what that mother told YOU touched YOUR heart as YOU heard of a soul taken north, to a doom not even YOU could imagine. With nowhere to practice in the city, YOU have marched north of the Cairngorms to hunt down the malevolent spirit and find the missing daughter. Now YOU must seek out darker forces in a world YOU are unfamiliar with and that is rife with folklore. YOU'LL need to ally with the brave and true and destroy the evil within, if you can tell one from the other.
Can YOU find the daughter and save her from an eternity of torment? Can YOU rid the highlands and islands of the darkness fomenting in the wilder parts? Will YOUR knowledge of the unseen be enough? Will YOU succeed? Unravel YOUR destiny and find out!
YOU make the choices!
YOU are the hero!
YOU face the consequences!